Mississippi Museum of Natural Science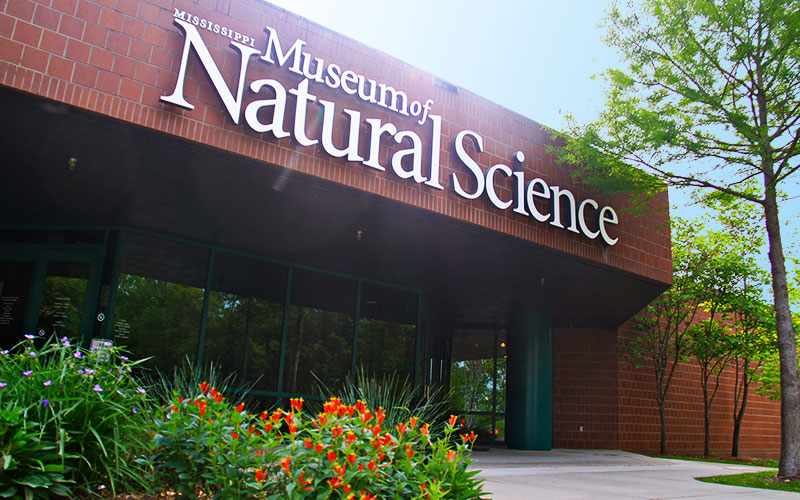 The Mississippi Museum of Natural Science is a 70,000 square foot complex teeming with history and educational installations that provide information about the state's natural landscapes and its inhabitants. Be sure to visit the wildlife exhibits and the aquarium, which contains over 200 species
Old Capitol Museum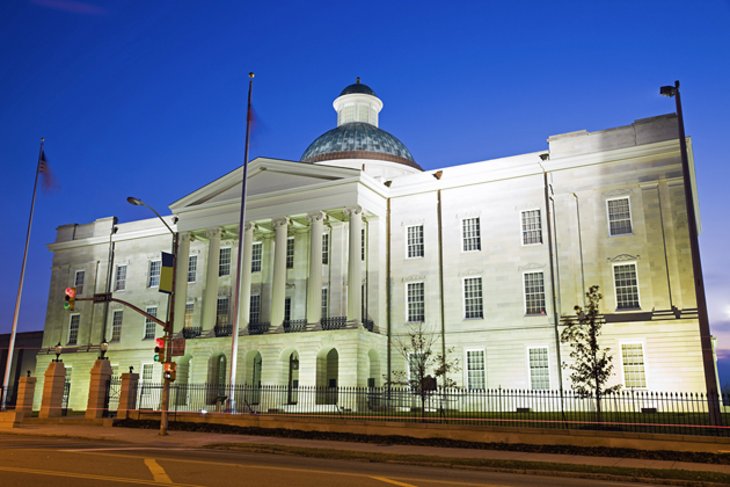 The Old Capitol Museum is housed in one of the most historic buildings in the state, and a trip here will surely take you back in time on an informative and exhilarating journey.
Mississippi Museum of Art
The Mississippi Museum of Art is housed in an beautiful building with sleek and modern aesthetics. There are many windows, allowing natural light to illuminate the inside. Arthur B. Davies, Robert Henri, Reginald Marsh, and Thomas Sully are just a few American painters whose works are featured at this museum.
Eudora Welty House and Garden, Jackson, MS
A National Historic Landmark, the Eudora Welty House was the home of internationally acclaimed author Eudora Welty. She wrote much of her work in this house until she passed away in 2001.
Mississippi Governor's Mansion
The Mississippi Governor's Mansion is a beautiful example of Greek Revival architecture from the 1840's. This stunning building is the second oldest continuously occupied governor's residence in the country, and a National Historic Landmark.
Babalu, Jackson, Mississippi
Babalu Tapas & Tacos serves a diverse selection of appetizers, sandwiches, salads, tacos, tapas, desserts and cocktails. Chef Austin Lee of Babalu Tacos has certainly earned his rank in the restaurant business. His career is impressive by anyone's standards, and he has been working in the restaurant industry since he was 14 years old.
Russell C Davis Planetarium
The Russell C Davis Planetarium is one the top planetariums in the South. The dome features a digital cinema that provides viewers with a full dome visual experience.
You can learn all about astronomy, celestial navigation, and voyages through space. This is one of the largest facilities of its type in the country, and it is equipped with the most sophisticated and innovative gadgets and accessories.
Mississippi Children's Museum
The Mississippi Children's Museum, one of the top attractions in Jackson, consists of over 50,000 square feet of fascinating and educational exhibits. Stop by and spend an exciting day looking at the displays and getting some hands-on learning experiences with the interactive exhibits.
The Manship Wood Fired Kitchen
If you're curious about trying a surprising and delectable fusion of Mediterranean and Southern cuisine, the Manship Wood Fired Kitchen is the restaurant for you. The charming, chic atmosphere will take you out of Jackson for a while, and their authentic European ingredients will delight even the pickiest of eaters.
Mississippi Sports Hall of Fame and Museum
The Mississippi Sports Hall of Fame and Museum is sure to attract any and all sports enthusiasts. This museum houses a prestigious collection of impressive sports memorabilia specific to Mississippi.
Parlor Market, Jackson, MS
Located in the heart of downtown, Parlor Market is a seasonal restaurant inspired by the South. Before serving its scrumptious dishes to restaurant patrons, Parlor Market was exactly what the name says: a market. Since undergoing its transformation, this eatery has come a long way with its cuisine. The décor, however, has not changed a bit.
Mississippi Agricultural & Forestry Museum
The Mississippi Agriculture Museum has a bold mission of creating a society that values the agricultural lifestyle and appreciates both agricultural practices and the people involved in them. They cultivate an appreciation for Mississippi's agriculture by displaying artifacts of this trade and providing educational resources.
The Oaks, Jackson, MS
On the list for the National Register of Historic Places and a Mississippi landmark, The Oaks is the oldest residence in the city of Jackson. This magnificent example of Greek Revival architecture sits on four acres of land near the center of the capital city.
Saltine Restaurant, Jackson, MS
The chefs at Saltine Oyster Bar have four different preparations for oysters, and diners keep coming back for more of this delectable treat. In addition to expertly prepared oysters, Saltine Restaurant also serves unique oxtail gravy fries and their Butcher Cut, a hearty hanger steak with onion jam and hop demi.
McAlister's Deli, Jackson, MS
At McAlister's Deli, you will find plenty of flavorful options, including potatoes, hearty soups, huge sandwiches, and light and healthy salads. Known for their attention to detail in creating their handcrafted sandwiches and other dishes, McAlister's insists on using only the freshest ingredients.
Source: vacationidea.com