"Wonder Woman" Just Destroyed Box Office Records, And Hollywood Should Never Be The Same
With a record-setting $100.5 million domestic debut, the first major female superhero movie in over a decade is poised to finally change the movie industry's backwards attitude toward women behind and in front of the camera.
Wonder Woman — the first solo female superhero film in over a decade, and the first superhero movie period directed by a woman, Patty Jenkins — opened this weekend with an estimated $100.5 million at the domestic box office. Jenkins now holds the record for the best domestic box office debut for a female director, surpassing the $85.2 million earned in the opening weekend for Sam Taylor-Johnson's Fifty Shades of Grey in 2015. Add in $122.5 million in international grosses, and Wonder Woman has already earned more in one weekend than any other female superhero movie has made in its entire theatrical run.
In short, it's crashed through one of Hollywood's hardest and highest glass ceilings.
After decades of false starts and second-guessing, the first movie based on the iconic female superhero is an unmistakable sensation. Critical raves are driving moviegoers who rarely if ever see superhero movies to buy a ticket to Wonder Woman. There are many reports of audiences breaking into spontaneous applause multiple times. And the film's "A" CinemaScore grade suggests a long and healthy theatrical life — many enthusiastic fans are already tweeting about seeing the film twice.
Most hit movies are just that: good for their studios' bottom lines and their makers' careers. Occasionally, however, a feature film's success makes a far deeper impact on the way Hollywood does business. Jaws invented the summer blockbuster. Toy Story created the computer-generated animated feature. The Avengers introduced the notion of a cinematic universe.
Similarly, Wonder Woman's success has the potential to change the way Hollywood regards women in movies, both in front of and behind the camera. Or it should. And here's how.
Wonder Woman should get more women hired to make blockbuster movies.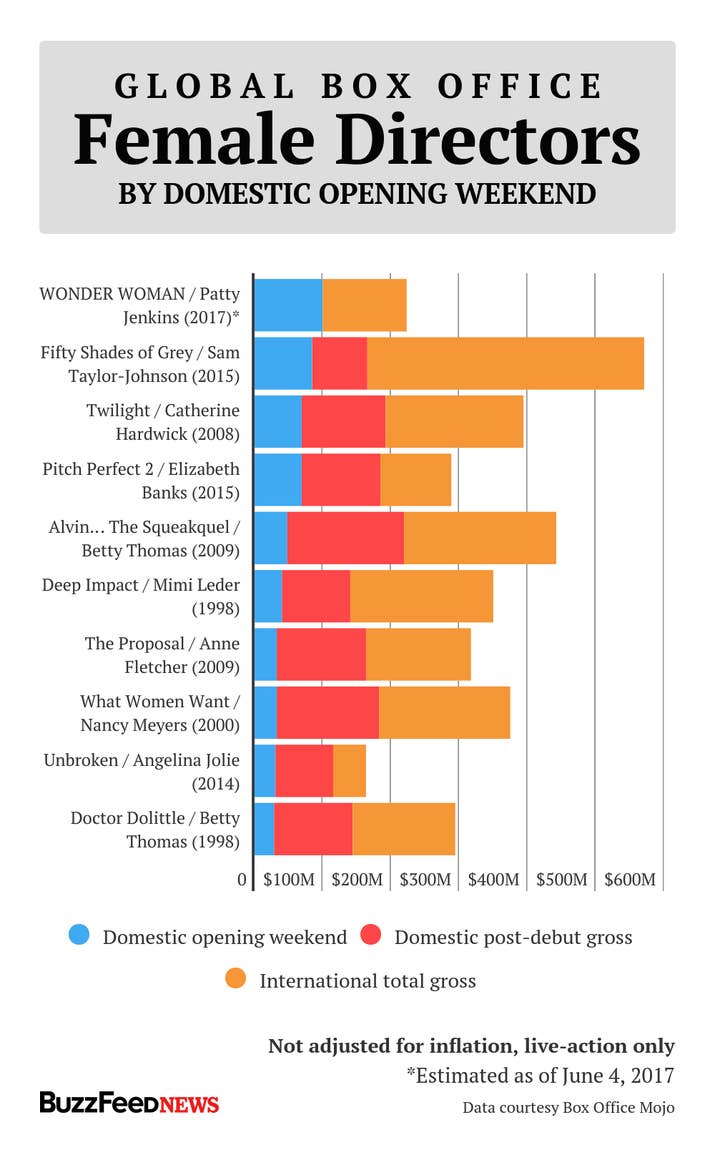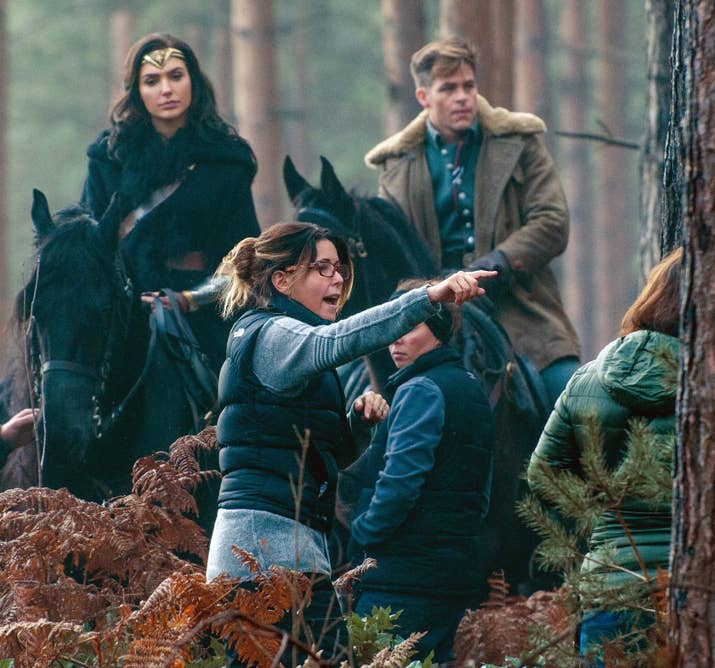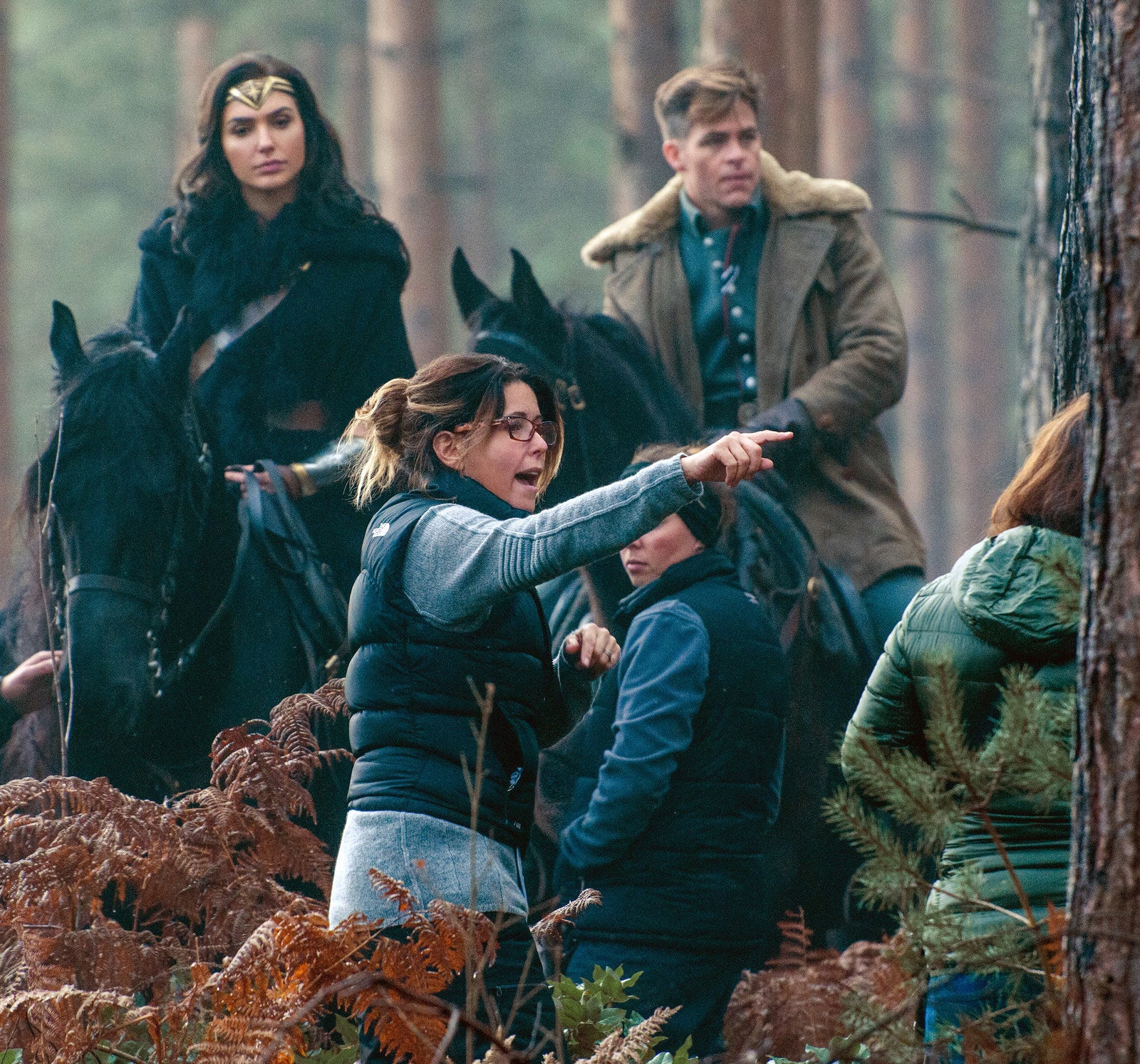 Jenkins made the absolute most of Wonder Woman's $150 million budget, and she's now heralded as no less than DC's savior, winning fulsome praise for bringing just the right mix of winning humor and unironic heroism to a cinematic universe woefully bereft of both. If her failure would have caused a setback for every other woman hoping to land a job making a big studio picture, her success should at the very least remind skittish studio executives to take at least a few more gambles on seemingly untested female filmmakers.
A few women are already breaking through: Ava DuVernay (Selma) was the first black female filmmaker given a budget of over $100 million for Disney's A Wrinkle in Time, which opens in 2018. And Gina Prince-Bythewood (Beyond the Lights) was just hired by Sony to direct the Spider-Man spinoff movie Silver & Black. Jenkins, meanwhile, told BuzzFeed News' Susan Cheng that her next big movie will likely be a Wonder Woman sequel.
But with just 7% of the top 250 films of 2016 directed by women, Hollywood needs to disabuse itself of the absurd notion that women cannot handle massive budgets and valuable properties. It can — by hiring them.
Wonder Woman should help get more female superhero movies made.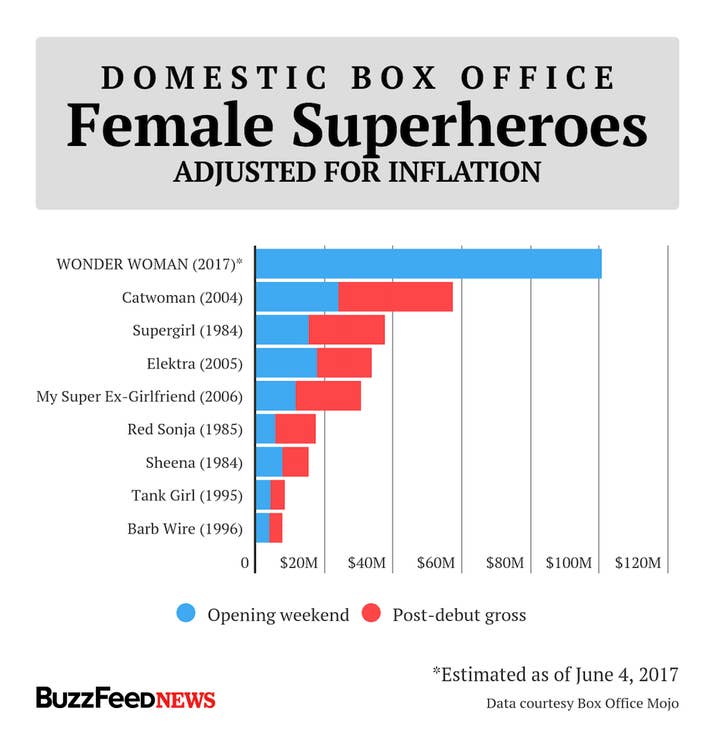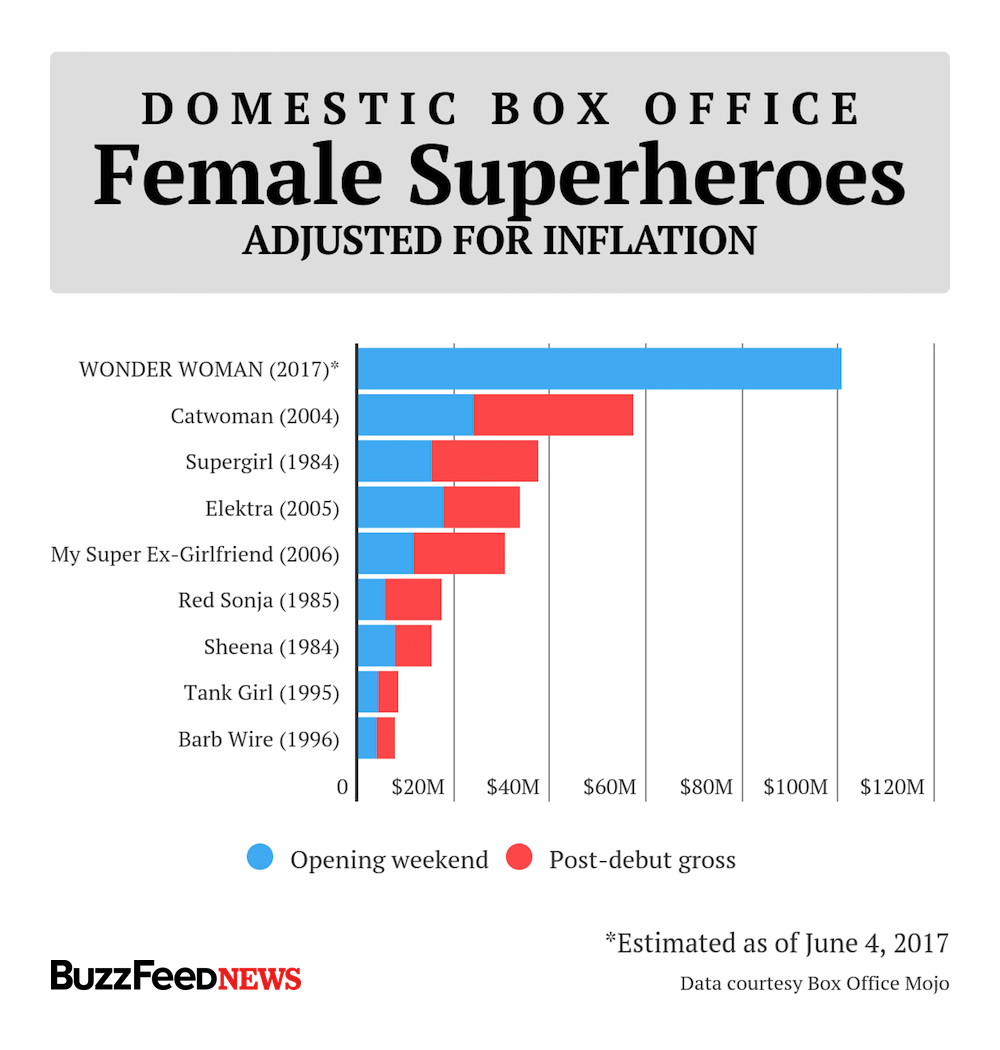 Yeah, about that: According to Warner Bros., Wonder Woman's audience was 52% female, and 48% male, and both genders gave the film an "A" CinemaScore grade. And with $100.5 million, Wonder Woman earned a better domestic opening weekend for a superhero's debut movie than Iron Man, Doctor Strange, Thor, Captain America: The First Avenger, The Amazing Spider-Man, and Batman Begins.
It turns out the issue wasn't so much that people wouldn't go to female superhero movies — it's that people wouldn't go to female superhero movies that were bad.
There are several more female superhero movies already in the works. Marvel Studios will introduce Brie Larson as Carol Danvers, aka Captain Marvel, in 2018's Avengers: Infinity War before she will headline her own 2019 feature directed by Anna Boden and Ryan Fleck (Mississippi Grind). (Evangeline Lilly will technically beat Larson to the finish line, co-headlining Ant-Man and the Wasp for Marvel Studios in 2018.) Joss Whedon is working on an undated Batgirl movie for Warner Bros. And Prince-Bythewood's Silver & Black for Sony Pictures will focus on female Marvel Comics characters Silver Sable and Black Cat.
Hollywood, however, has sunk a fortune into bringing a seemingly endless parade of impossibly muscled male superheroes to movie screens, and the risk of audience fatigue is real. Wonder Woman's rapturous reception should be a giant flashing neon sign for studio executives that reads, "PEOPLE WANT TO SEE FEMALE SUPERHEROES TOO — MAYBE MAKE MORE MOVIES ABOUT THEM!" Granted, that would be a long sign. But Hollywood should heed the message.
Wonder Woman should help get more female action movies made.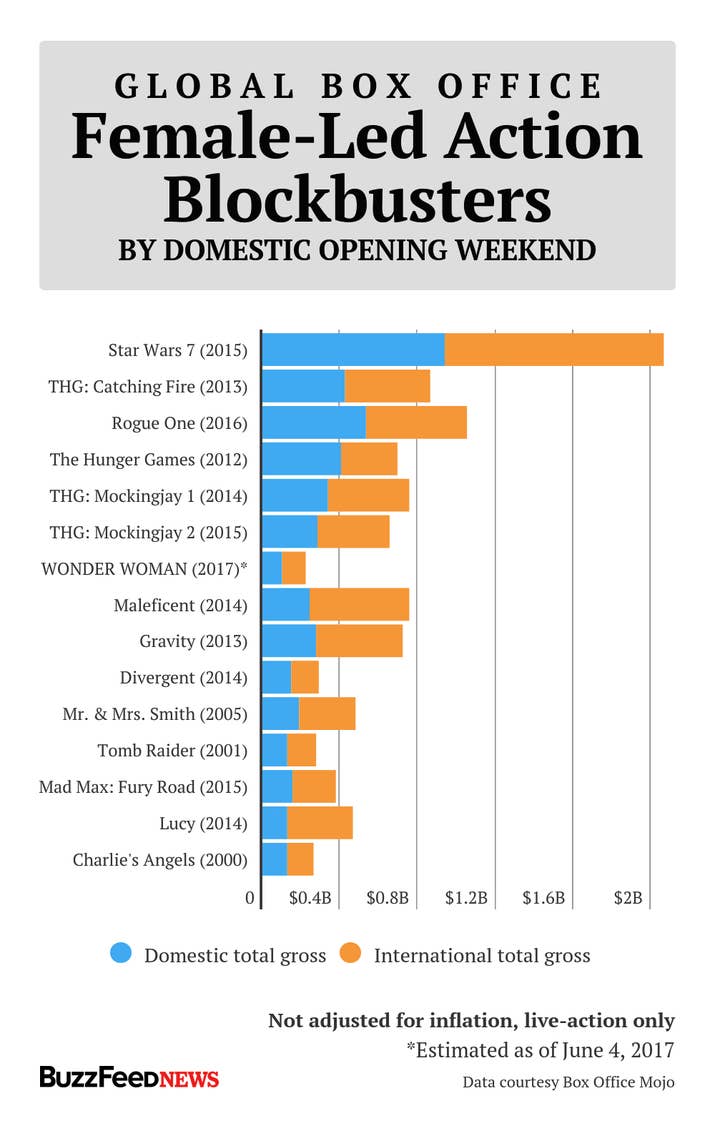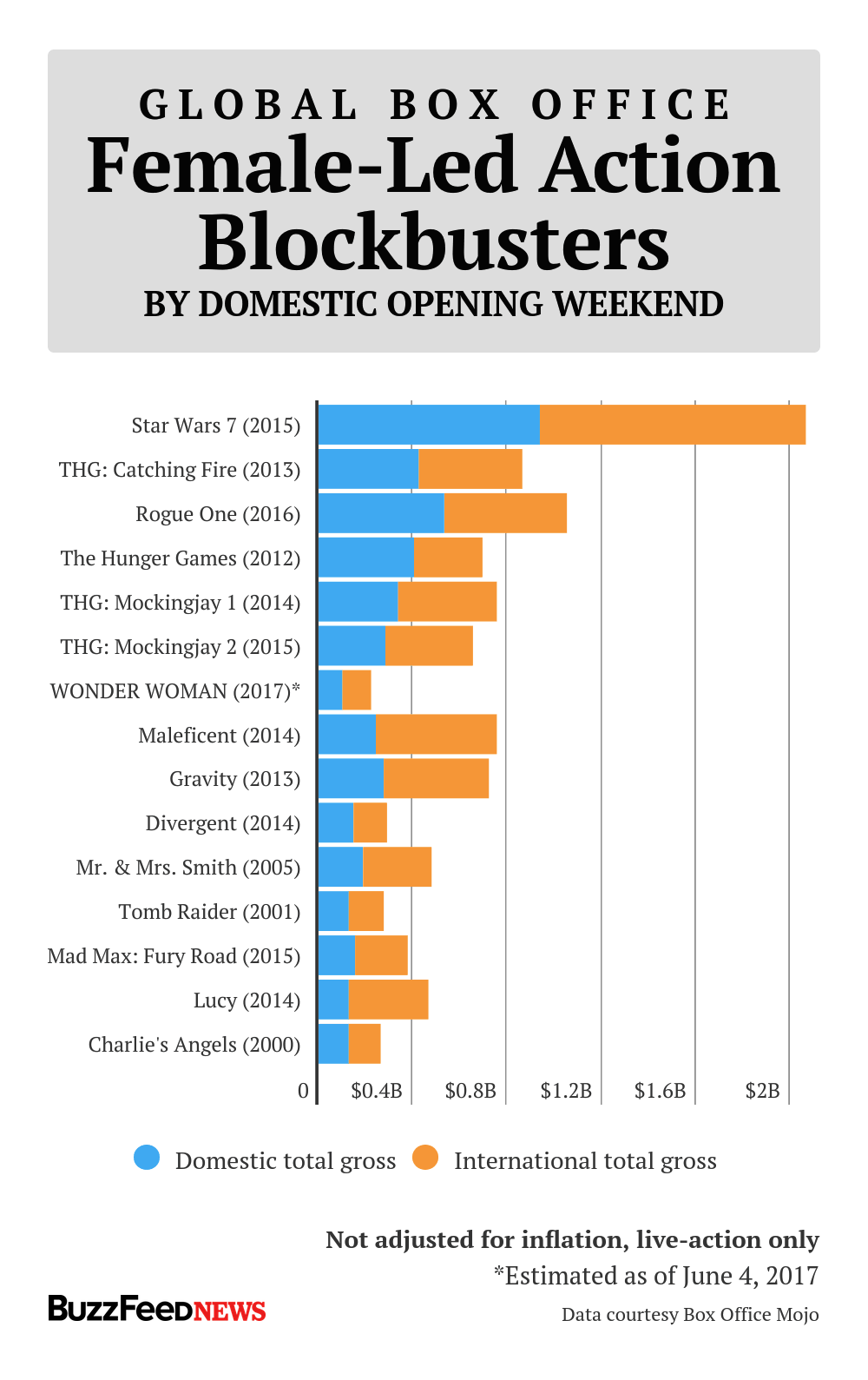 You can also draw a straight line from Katniss to Daisy Ridley's Rey in Star Wars: The Force Awakens, and Felicity Jones' Jyn Erso in Rogue One: A Star Wars Story. Add in Gal Gadot's Wonder Woman, and it suddenly becomes clear that a lot of people want to see women kick ass.
Thankfully, Hollywood has started to pay attention: In July, we'll see Charlize Theron do just that in Atomic Blonde, and Cara Delevingne do the same in Valerian and the City of a Thousand Planets. Ridley will presumably also kick ass again in December's Star Wars: The Last Jedi. And in 2018, along with Lilly's Ant-Man and the Wasp, Alicia Vikander will play Lara Croft in Warner Bros.' Tomb Raider reboot, and Rosa Salazar (Parenthood, Maze Runner: The Scorch Trials) will headline Alita: Battle Angel, written by James Cameron and Laeta Kalogridis and directed by Robert Rodriguez.
Note, however, that (apart from Salazar) these are exclusively white women kicking ass. One of the most refreshing sights in Wonder Woman was the uncomplicated diversity of Diana's home of Themyscira, with women of many races — and body shapes — sharing the screen and fighting together. There are so many stories about these kinds of women waiting to be told. All Hollywood has to do is make them.
Source: Buzzfeed